Around-the-clock service
From the moment an initial inquiry hits your inbox, our Guest Communication Services team have got you covered, providing prompt responses to help improve your conversion rates and guest stays.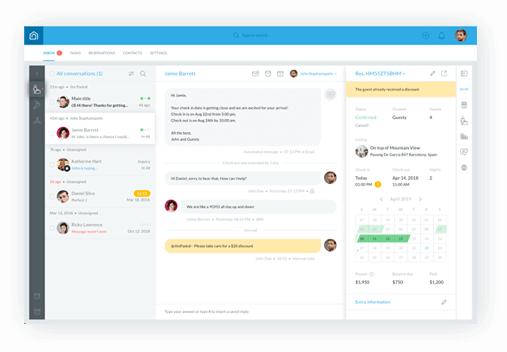 Prioritized communication
Guesty's advanced technology sorts incoming messages according to urgency, so we can respond to the most important inquiries first.
Customized sign-off
Our experts can sign-off on all correspondence however you choose, be it as your personal staff, your partner, or even you.
Multi-calendar maintenance
The Guesty Communication team can adjust bookings based on availability, price and location in order to meet special requests and satisfy as many guests as possible.
Review Strategy
Our experts will assess each reservation and will ensure automatic review prompts aren't sent to guests when it isn't strategic.
Choose To Utilize GCS In Your Off-Hours Only
You also have the option of our Guest Communication Services team handling interactions with your guests only during your team's off-hours. We'll pick up your guest communication from the moment your team signs off – whether that be during evenings, weekends or holidays – to give you and your staff the work-life balance you're looking for.
FAQs about our 24/7 Guest Communication Services
How do Guesty's Guest Communication Experts know how to respond to specific inquiries related to your properties?
Users who opt to hand their guest communications to our team of experts will proceed to a brief onboarding phase during which they will fill out a detailed questionnaire. The questionnaire will include questions on everything from last minute bookings to emergency protocols.
How much will I save with Guesty's Guest Communication Services?
When you hand over guest communication to our team of highly trained communication experts, you'll experience countless hours saved, increased efficiency and a boost in productivity with a leaner team. Calculate how much you could save by using our calculator tool here.
Will my guests know they are speaking to someone outside of my direct organization?
Not if you don't want them to. Our communications services experts can respond to inquiries as themselves, as your company personnel or even as you. This way you can hand off your overwhelming guest management duties without removing the personal aspect that makes short-term rental companies so unique.  
Guesty's Communication Services have been excellent in their service, communication and booking rate! We would highly recommend their care for your guests.
Meghan Genard, Redamo
Trustpilot
Guesty's GCS has a major advantage over competitors for property managers who are looking for scaling and expansion.
Michael Sjogren
Founder & CEO, Occupied LLC
Bottom line - Guesty is incredibly easy to work with, and the support is the best in the industry, period. They are available 24/7 for any crazy, urgent demand I might have...and I have a lot of them!
Andrew Lenjosek
Founder, Upstay
Guesty has been the foundation upon which we have built our business and they are exceptional at what they do. Their communication team, customer service and software are unmatched.
Jeremiah Hines
Trustpilot
Having this service has set us apart from other vacation rentals and allows us to be world class. Our guests love the interactions, their timely responses and their willingness to help before, during, and after their stay.
Phillip Warrick
Epic Property Pros
The communication team replies to host emails lightning fast.
The support is available and processes issues in a very efficient way. You won't need more than Guesty, they have everything you need!
Guesty offers a fantastic product with new features rolled out weekly, and a team that goes above and beyond to provide an exceptional customer experience.
Andrew Lenjosek
Trustpilot
The Guesty Customer Support Team is extremely valuable is handling many of our customer inquiries, questions and issues... always friendly and available around the clock.
Brandon Hiserote
Trustpilot