Customizable Coupon Codes Now Available for Your Guesty Booking Website
You've no doubt been warned once or twice not to put all of your eggs in one basket. If you want your rentals filled with a steady stream of guests, you've got to list your properties on multiple platforms (Airbnb, HomeAway, Booking.com etc).
But property managers interested in increasing their brand recognition and maintaining exclusive control of their revenue will also benefit from weaving an entirely new basket and creating a booking website of their very own.
As Guesty users already know, our vacation rental website builder makes this process smooth and simple, generating a unique (commission-free) website for all of your listings in a matter of minutes. And now, it just got even better.
Fueled by our mission to help Guesty users boost their revenues and drum up as much business as possible, we've added an exciting new element to our Booking Website feature – customizable coupon codes.

Coupon Codes – What it looks like for a user on your website
Before you run off to experiment with this addition to the Guesty toolkit, here's a quick rundown of its uses and capabilities
What are customizable coupon codes?
Guesty's coupon codes give property managers the ability to offer customized discounts to distribute to previous and potential guests – a great way to motivate people to reserve your listings through your personal vacation rental website.
How are they created?
Users have full ownership over each coupon and can set specific terms regarding:
The minimum number of nights required
Expiration of the coupon (a sure way to encourage bookings in advance)
The number of times the coupon can be used
The value of the discount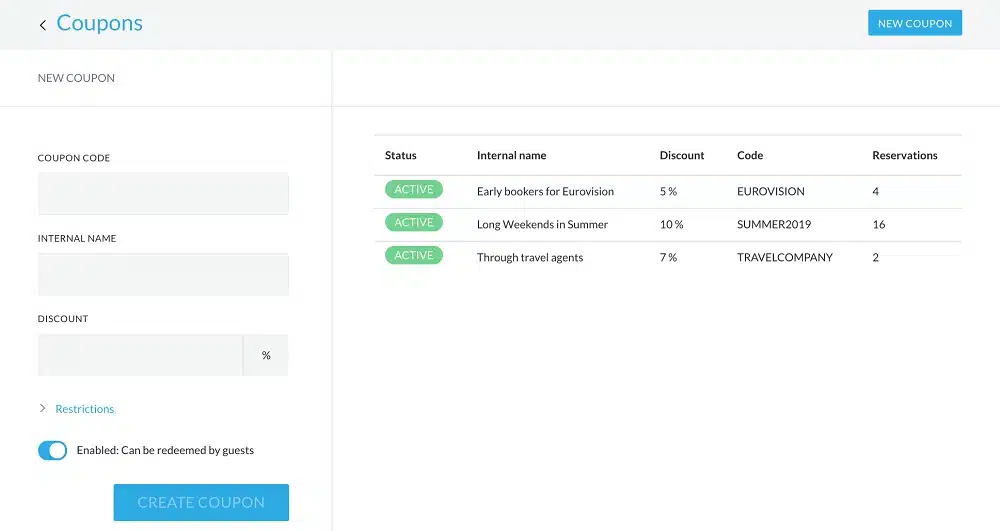 Setting up your coupon code
How do they work?
There are several different tactics that property managers can employ in order to incentivize guests to book through these coupons. They can:
Try to attract new

guests by sharing the coupon codes via newsletters or social media.
Email coupons to former guests to tempt them to return for a second visit.
Distribute the codes to travel agencies who can turn a higher profit by booking the rentals at discounted prices.
Offer the discounts to corporations to utilize when setting up accommodation for traveling employees.
Provide the coupons as a form of compensation to guests who didn't enjoy their stay.
Property managers can use discounts to keep their listings profitable during low season and to make sure their properties are reserved in advance of the holidays, rather than hoping they will fill up as time goes on.
Coupons are an age-old method of getting people to buy what you're selling and are just one of the many features Guesty is implementing to direct our users down the fastest and smoothest route to success.