Creating Manual Tasks With Guesty
With so much to get done before, during and after each reservation, effective task management is a critical component of successful short-term property management. While creating automated tasks are a great way to streamline operations, one-off scenarios like mid-stay cleans or specific repairs call for manual tasks, which you'll need a simple, straightforward way to create. 
Watch the video below or continue reading to learn how to create manual tasks with Guesty.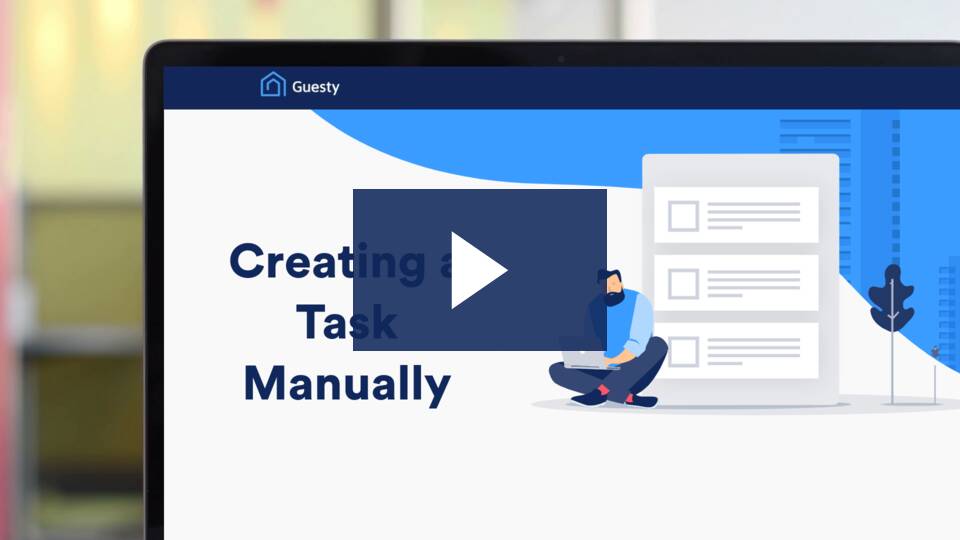 Video: Creating Manual Tasks – Guesty Help Center
Step 1: Define the task
Click the "Plus" icon at the top right of your dashboard and then select "New Task" from the dropdown menu. Then, in the provided fields, give your task a title, starting time, duration, and description. You can choose to give your task a specific start date and time or a more flexible timeframe, identifying the time and date from which the task may be started as well as the time and date at which it must be completed. 
Step 2: Add components
Beneath the task fields you'll find additional items you can add to the task, including a checklist or relevant attachments, like images or instructions.  To add additional items to the checklist, press "Enter" or click "Add item." Drag checklist items to reorder them if necessary. 
Step 3: Prioritize and assign
On the right hand side of the screen, select the task's priority the default is medium, but it can be changed to low or high if relevant.
Next, assign the task to a group or individual as well as a supervisor to oversee the task. These fields can be left blank if you'd like to manually assign the task at a later time.
Finally, assign the task to either a listing or specific reservation.  Select the relevant item from the dropdown menu and then click "save."

---
Want to learn more about facilitating simple task management with Guesty? Check out our Help Center, where you can find step-by-step guides to creating and using both automatic and manual tasks.